Missing You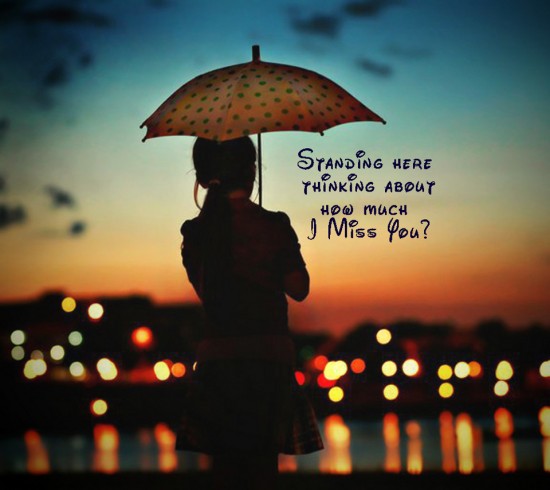 You never know what you have until you lose it, and once you lose it, you can never get it back.
The worst way to miss someone is when they are right beside you and yet you know you can never have them.
Love is missing someone whenever you're apart, but some how feeling warm inside because you're close in heart.
I might not get to see you as often as I'd like, I may not get to hold you in my arms at night, but deep in my heart I know that it's true. No matter what happens... I will always love you.
I'm holding on to something that used to be there hoping it will come back, knowing it won't.
If you love someone more then anything, then distance only matters to the mind, not to the heart.
I want to be with you tonight, tomorrow, and today it can't happen now but it will someday.
Nothing hurts more then waiting since I don't even know what I'm waiting for anymore.
And if you were to say 'come with me', even now I might go.
I have waited for you for 2 years and I will wait for you for the rest of my life. Even if that means I have to give you up for the rest of my life, I will wait for you. I love you that much and nothing will ever change that.
Can miles truly separate you...? If you want to be with someone you love, aren't you already there?
You know you love someone when the mere thought of losing them brings you to tears.
I wish that I could hold you now... I wish that I could touch you now... I wish that I could talk to you... be with you somehow.
Distance between two hearts is not an obstacle... rather a beautiful reminder of just how strong true love can be.
A lot of people walk in and out of my life, but... you're one of the only ones I ever really wanted to stick around.
Just because I moved on doesn't mean I won't be here if you change your mind.
Maybe he's doing the same thing as me... maybe he wants so bad to call me, but just won't because I haven't called him... then again, maybe I shouldn't fill myself with false hope that he might just be missing me like I'm missing him.
You asked me what was wrong, I smiled and said nothing, when you turned around and a tear came down and I whispered to myself... everything is.
I sit here and wonder if you'll ever understand just how much of me belongs to you.
I don't miss you: I miss the person I thought you were.
I'd be happy to come back to you... except it was you that went away.
I think its time I let you go... and that is hard to do because part of me will be in love with you for the rest of my life.
Good-bye's make you think. They make you realize what you've had and what you've lost, and what you've taken for granted.
Good-bye is only truly painful if you know you'll never say hello again.
Never long for anyone from the past. There is a reason why they never made it to your future.
Goodbyes always hurt whether it's the right thing to do or not.
We'll do what we gotta do, see what we gotta see, and if in the end we end up together, then we'll know it was meant to be.
Late at night when all the world is sleeping, I stay up and think of you... and I wish on a star that somewhere you're thinking of me, too.
Even now after all this time, you called me and wanted me I'd say "yes! It's about time what took you so damn long!".
You do something to me that I can't explain, so would I be out of line if I said I miss you?
The few hours I spent with you are worth the thousand hours I spend without you.
This is out last goodbye... it's over, just hear this and then I'll go; you gave me more to live for then you'll ever know.
Missing you isn't the problem, it's wondering if you'll ever come back that's killing me.
It's been quite awhile... I must say I miss our friendship. I miss you, but what I really miss the most is not just you or us but how it all was.
I miss the talks we used to have, I miss the voice I used to hear... I miss hearing your crazy but cool stories, and above all these... I just miss you!
I ofter catch myself constantly wondering how you are, sitting alone with my mind set so far, reminiscing about your smile, voice and touch, damn this life... I'm missing you too much!
I get this feelings we'll be together again. No straight lines make up my life, all roads have bends. No clear cut begging's and so far no dead ends.
Today was just one of those days where everything I did reminded me of you and every song I heard somehow related to you. I hate days like today, because they remind me of the one thing I dont have.
I called because I wanted you to know that despite everything that' happened and all the miles between us right now, I still think about the way it was in the beginning.
If some thing happens and you lose me, please don' think that' the end, come and find again.
I know you've been busy, I had things to do too. We haven't talked for some time, I wonder if everything's fine. I had other stuff on me mind, I'm sure you did too, but I just had to tell you this my friend... hey I miss you.
People that are meant to be together always find their way in the end.
We've gone our separate ways and I know it's for the best, but sometimes I wonder, will I ever have friends like you again?
I miss all the little things. Like him driving with his hand resting on my knee and the way wed share a big gooey ice cream. But I especially miss the hot nights in those motel rooms when he was all around me, the taste, and the scent and the feel of him. And Id fall asleep in his arms, with the sound of his heartbeat being the last thing I heard before going to sleep. I ache with longing.
I've been laying here all night, listening to the rain. Talking to my heart and trying to explain. Why sometimes I catch myself wondering what might have been. Yes I do think about you, every now and then.
In this weird twisted way, I know you miss me liking you, not because I want to believe it's true, but because you'll never find a girl that can put up with you like I did; you'll never find a girl who will care as much as I did, because no one will waste all there love on someone like you, like I did.
If you missed me then I'm sorry I didn't stay away longer, I like being missed.
Just the thought of being with you tomorrow is enough to get me through today.
It's YOU. You mean everything to me... you are the first thought in my head in the morning when I wake up; my last thought before I go to bed. You smile at me in my dreams... when you are sad, I fell sad, and when I see your true smile, I feel incredible, like there is no other thing around and all I can see is you.
The best feeling in the world is to be millions of miles away and still be able to picture his eyes.
Sometimes, no matter how much faith we have, we lose people. But you never forget them. And sometimes, it's those memories that give us the strength to go on.
I tell you goodnight with tears in my eyes, I wish I was there curled up by your side, Time passes, But not fast enough, I try to be strong. But I'm not that tough, When I feel you embrace it will be all right, But my heart aches for you on this lonely night.
When I'm not there... do you think of me? When you're sad and something's bothering you... do you wish I were there to help comfort you? When you've had a long hard day... do you smile knowing that soon you'll be seeing me, and everything will seem better, even if it's just for a moment? When you lay down at night... do you look back and cherish the new memories you've made with me? And when you get up in the morning, does everything inside of you smile, knowing that this will be another day that we'll be together? because that's how I think of you...
I can still remember just the way you taste.
I want to be in your arms, where you hold me tight and never let me go.
Hug me when I'm there, miss me when I'm not, kiss me every day, and love me for all eternity.
If home is where the heart is, then wherever you are, that's my home.
I just want to hug you, but your are 480 some miles away, what I wouldn't do for a hug.
I wish that you were here or that I were there, or that we were together anywhere!
Before I sleep and after I wake up and all the hours in between ... you occupy my mind. So, practically every moment of the day you are in my thoughts. I miss you.
When you feel alone, just look at the spaces between your fingers, remember that in those spaces you can see my fingers locked with yours forever.
Each time I miss you, a star falls down from the sky. So, if you looked up at the sky and found it dark with no stars, it is all your fault. You made me miss you too much!
Missing someone gets easier everyday because even though you are one day further from the last time you saw them, you are one day closer to the next time you will.
I miss you most when I'm sad. I miss you when I'm lonely. But most of all, I miss you when I'm happy.
I am here and you are there - one of us is in the wrong place!
Sometimes I miss you so much, I just want to rip you out of my dreams and hug you!
Not being able to hold you has got to be the hardest thing I've ever had to do. But I get to look forward to the next time you are in my arms; your smile only inches away from mine getting closer and closer until at last... our smiles meet. Something that beautiful... that's what keeps me going.
I miss the way you used to hug me, I miss the way you used to kiss my lips, but most of all I miss the way you held me and my heart. I miss you...
What I have with him is worth it. It is worth every lonely night, every tear I cry from missing him, and the pain I feel from not having him close. It is worth it because he is my one and only. When I picture myself years from now, I see only him. No matter how painful distance can be, not having him in my life would be worse.
If my heart had wings I would fly to you and lie beside you as you dream. - Faith Hill
Late at night when all the world is sleeping, I stay up and think of you. And I wish on a star that somewhere, you are thinking of me too.
It's not a 'good-bye', only a long 'I'll see you later.'
When I miss you, sometimes I listen to music or look at pictures of you, not to remind me of you but to make me feel as if I'm with you. It makes me forget the distance and capture you.
No matter how far you are, no matter how long I'm gone, you will always be with me. I will see you always as clear as day, for our love knows no boundaries and never will, because you see... our hearts are one, and mine is always home.